A few weeks ago, Amazon released a tool called Product Opportunity Explorer, which provides analytics of Amazon customer purchase and search behavior. It is very similar to last year's Walmart's Growth Opportunities section and was introduced as an effort to make it easier for sellers to grow their businesses and offer a great selection of products.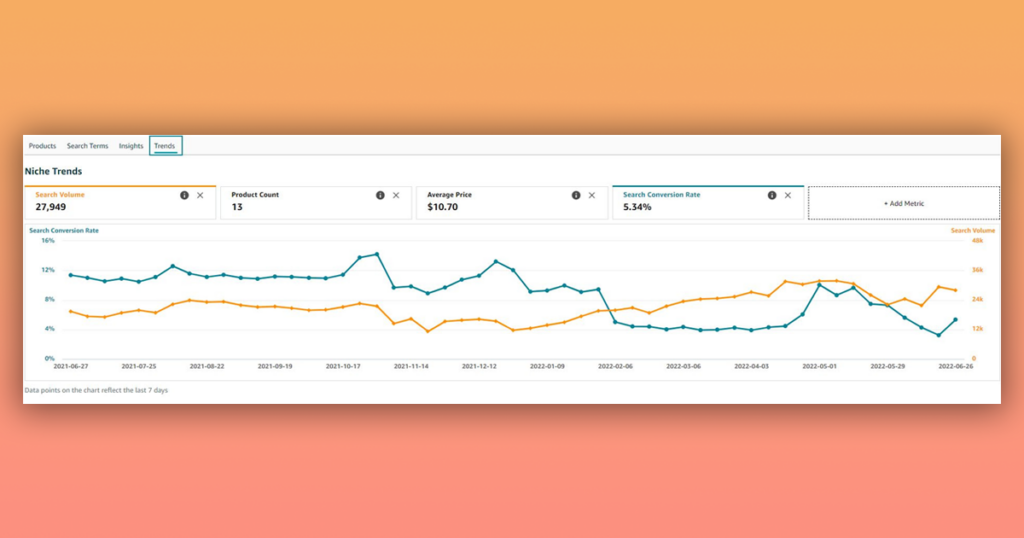 The tool is free for all sellers with professional Amazon accounts and can be accessed through the Growth section. The most interesting function of Opportunity Explorer is recommendations of niche products that you can add to your catalog. The default recommendations are based on the products you sell, but you can also search for new opportunities using keywords. The results are not just raw output of data, but each recommendation is scored with sales potential based on historical data. This way, you can make a deliberate decision about which products to add and minimalize the risk that it will not sell.
The Trends section is another useful functionality for analytics monitoring. This dashboard mostly provides data visualization for metrics such as historical search volume, conversion rate, and units sold for specific items. It can help you understand the customer's demand for the coming season, product conversion over time, and price range.
Amazon Opportunity Explorer has great potential for sellers who actively look for new items to sell. If used wisely, it can help build a solid catalog that will generate substantial income. It is an invaluable source of data that is free for all professional accounts.
If you are looking for more information about this new tool, check the Amazon guide here.