It is a great time to consider joining Walmart Fulfillment Services (WFS). A few days ago Walmart WFS team announced a new Walmart WFS offer. The offer is very beneficial for sellers who have not used this service yet.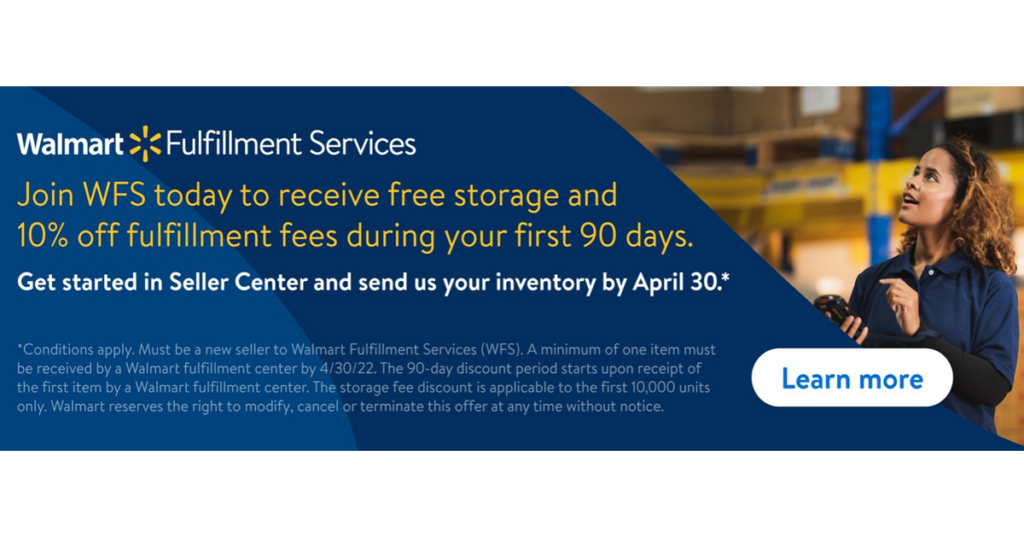 WFS is a fulfillment program provided by Walmart for e-commerce marketplace sellers. It allows sellers to use Walmart's warehouses to store their products and ship them to customers automatically with fast shipping options and other benefits.
The offer will give new Walmart WFS users free storage and 10% off fulfillment fees during the first 90 days of usage. It is a great way for sellers to test the feature and see if it suits their business needs.
The conditions required to utilize the Walmart WFS offer:
Only Walmart sellers who are new to WFS can apply.
A miniumum of 1 item must be sent to any Walmart Fulfillment center by April 30th 2022.
The 90-day discount period begin upon receipt of the first item by a Walmart fulfillment center.
The storage fee discount applies to the first 10,000 units only.
Walmart sellers can apply for WFS through this website. If you would like to estimate how much you will pay for WFS storage and shipping fees, you can use the WFS calculator.
Please keep in mind that MonsterSeller offers complete integration with Walmart, and you can convert your items to WFS through our system. If you have any questions, please contact us (support@monsterseller.com) or comment in the section below.