As one of the biggest e-commerce giants, Walmart is focused on providing an outstanding customer experience on its platform. It is not easy to achieve with thousands of sellers offering different quality of service. It was necessary to set some standards all sellers promised to keep in their agreement with Walmart.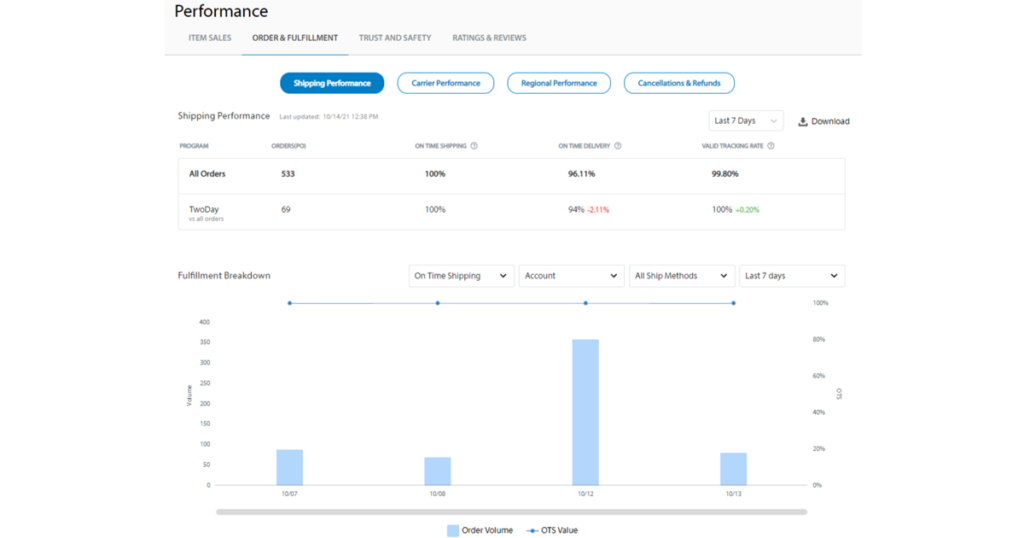 These requirements are called Walmart Seller Performance Standards and consist of five separate metrics, each measuring specific values based on a percentage of orders or seller response rate. Below you can find a breakdown of these Walmart performance metrics:
1. Cancellation Rate
Walmart's standard is below 2% of canceled orders. Canceling an order after receiving it from Walmart increases the rate. The lower the rate, the better your score is. You can find more information about Walmart order cancelation here.
2. On-Time Delivery Rate (OTD)
Walmart's standard is above 95%. Orders must be delivered on or before the Expected Delivery Date, which is determined by a few factors: order cutoff time, fulfillment lag time, and transit time. On-Time Delivery best practices are described on this page.
3. Refund Rate
Walmart's standard is below 6%. It is a percentage of orders refunded for reasons the seller is responsible for, such as an item damaged or incorrect item received.
4. Valid Tracking Rate (VTR)
Walmart's standard is above 99%. This mainly involves providing a valid tracking number for each order. The tracking number is considered valid if it's searchable and the customer's order is suitable for tracking using provided tracking number. Check this guide for details.
5. Seller Response Rate
Walmart's standard is a rate above 95%. This metric shows the percentage of customer messages responded to within 48 hours of receipt. You can read more about customer messages here.

If you meet those standards and can keep them for an extended period, you can earn a Pro Seller Badge. A Pro Seller Badge offer can significantly boost conversion and product exposure as they are instantly visible to the customer. It is also a sign that you provide excellent service over a long period of time, ultimately building the customer's trust.
You can find more details about Walmart Seller Performance Standards in the Guide section of Walmart's Seller Help Portal. If you have further questions, you can ask them in the comment section below or contact our support team.